CARD NAME: "Pointed"
This is a Bird Note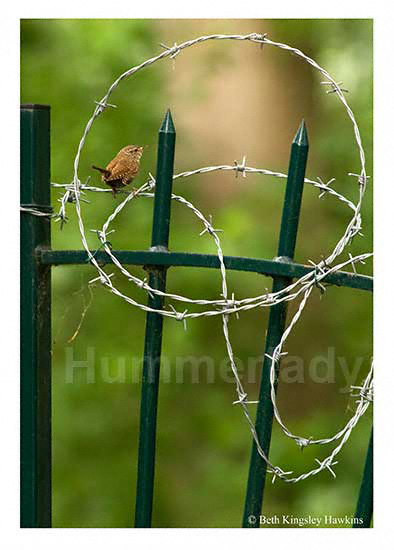 Note: the word "hummerlady" overlay is intended to prevent unauthorized use of the web image and is not present on the actual card.
TEXT ON BACK OF CARD:
Giverny, France
"I was photographing in Monet's Garden, focusing on the roses
along the fence line, when the little wren flew into the circle of
wire above them. I was amazed to see him and lucky to capture
this split-second photo opportunity.
The winter wren (Troglodytes troglodytes) is a beloved songster,
often referred to as the 'Pavarotti of the Woods.' Familiar to
residents of North America, Europe, and Asia, this talented little
bird, unlike humans, can sing while both inhaling and exhaling,
sustaining a melodious song for up to eight seconds. Although
at four inches he is one of the smallest birds, pound for pound
he has ten times the sound power of a crowing rooster."