CARD NAME: "Flying Free"
This is a Bird Note.
The inside left of this card bears the following quotation:
"Use the talent you possess.
The woods would be very silent
if no birds sang there except those that sang best."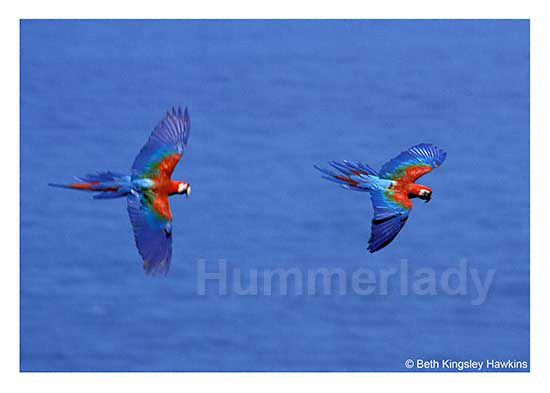 Note: the word "hummerlady" overlay is intended to prevent unauthorized use of the web image and is not present on the actual card.
TEXT ON BACK OF CARD:
Trinidad, West Indies
"This mated pair of Red-and-Green Macaws are seen here soaring
in a thermal over the North Coast of Trinidad. The blue back-
ground, that looks like the sky, is actually the Caribbean Sea.
I observed them carving out a nesting cavity with their powerful
beaks. Usually seen in nearby Venezuela, this was a rare bird
sighting for the island of Trinidad."