I have three art prints available for sale: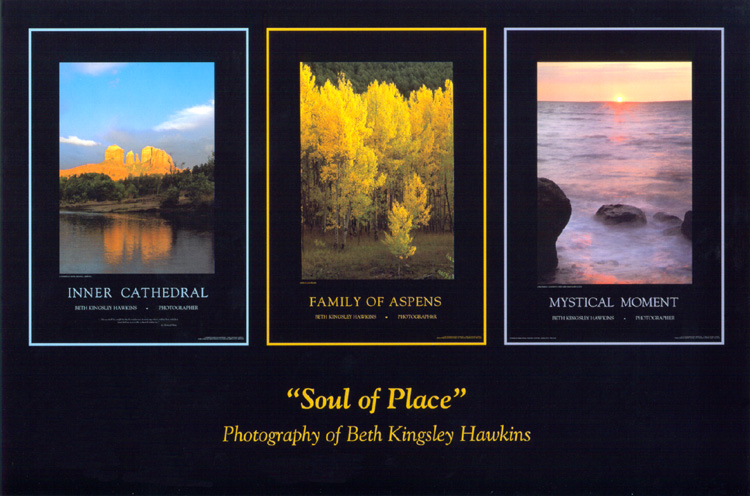 Through the light-filled images of her "Soul of Place" Series, photographer-artist Beth Kingsley Hawkins communicates the essential spirit of each place, capturing a moment in time using photography's ability to paint with light.
It is her hope that the images on these art prints will fill your own inner landscape with light.
"Inner Cathedral" Sedona, Arizona
Cathedral Rock, and its golden reflection in Oak Creek, seem to bring to life the words of George Bernard Shaw:
"When my spirit is groping for an elusive mood, my eye shall be caught by the skyward tower, showing me where, within that cathedral, I may find my way to the cathedral within me."
"Family of Aspens"
Ouray, Colorado
I grew up in New England and love the birches. What a joy to discover the aspens out West and to learn that they propagate by sending runners under the earth and thus all come from one mother tree. It literally is a "family of aspens."
"Mystical Moment" Makonikey Beach Martha's Vineyard, Massachusetts
A moment caught in time: the sun setting on the horizon, the water reflecting the colors of the sky, the waves frozen in motion. Then, weeks later, as the presses rolled and subtle color changes were made on the image, I was deeply moved as the outline of an angel became visible. She had been there all along, but only showed herself when we got it right!
These images are available as 18 x 26 inch art prints for $30 each (unframed). Add $4 shipping and handling, which includes the mailing tube. They are also available laminated (glossy) with 1.5 inch black Formica sides, ready to hang, for $90 plus shipping and handling.